Seminar Description
The UndocuScholars Academy has been designed to empower undocumented students through an eight-week, small group, interactive career seminar managed by the Center for Career and Professional Advancement. The seminars are co-facilitated by career specialists, Maria Ramirez Loyola and guest speakers. Students will focus on career development, resume, interviewing, and job/graduate school preparation and skills all students will need in order to thrive in their careers. Participants will have the opportunity to earn a certificate of achievement and rewards for completion.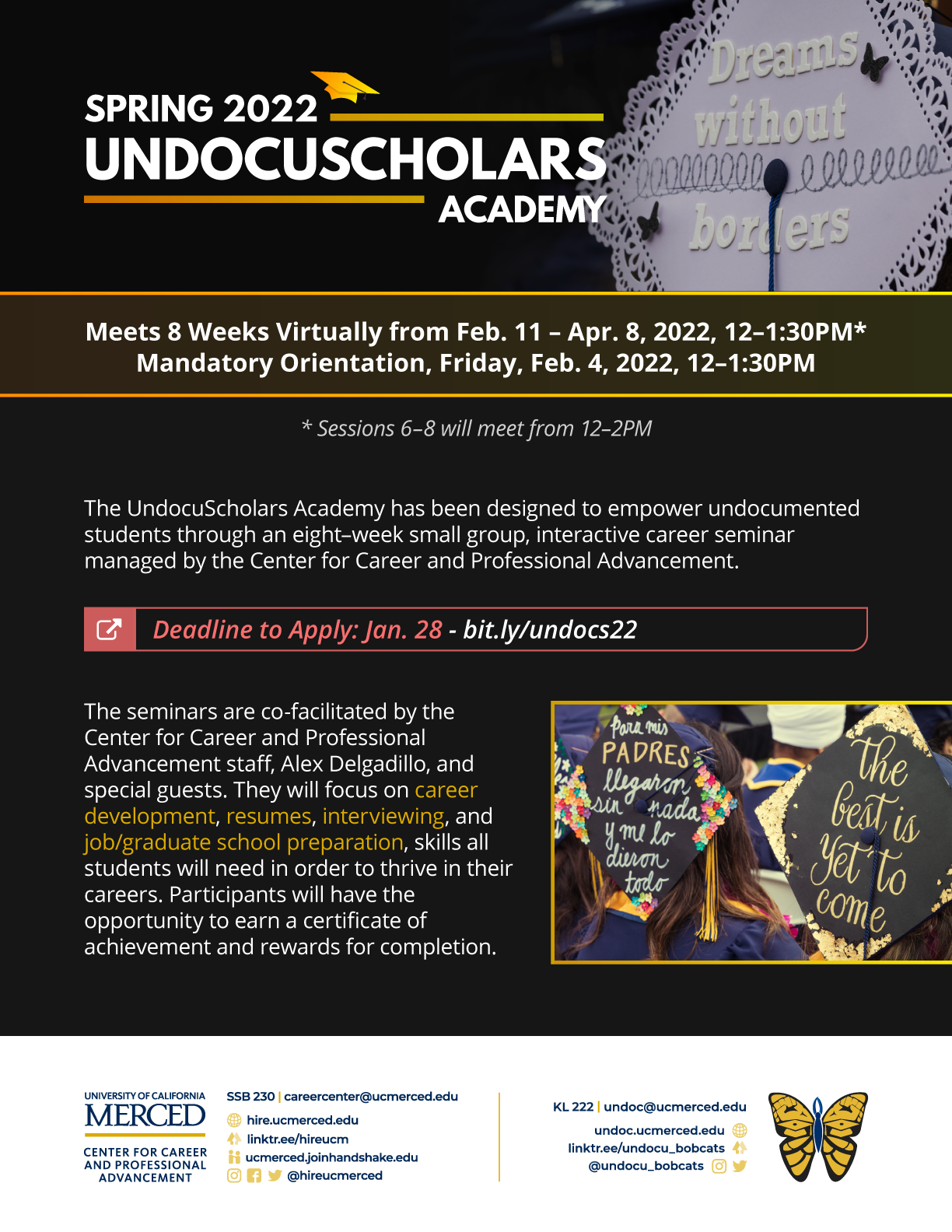 UndocuScholars Academy Outcomes
Develop career awareness by exploring and researching occupations and employment trends 


Increase career self-awareness through effective goal setting and decision-making 


Demonstrate effective written and verbal communication through resume/cv and cover letter 
development, and networking and interviewing 
        

Develop knowledge of career and research-related opportunities and resources on and off-campus

Increase self-confidence in applying for internships, jobs, and post-baccalaureate education 


Engage with like-minded peers to develop career self-confidence in relation to identity and background 

How to Apply | Spring 2022                                               
Application Criteria: Interest in developing and enhancing professional development.

Program Incentives: As an incentive for full participation, participants will receive a gift card of 
$250.00 to Kohl's Department Store and a certificate of achievement. 

Program Size: The program is restricted to 15 students per session in order to optimize interaction by all seminar members. 

Seminar Syllabus (Spring 2022): Syllabus Link
Program Format: The program will meet every Friday for eight (8) weeks (February 11, 2022 - April 8, 2022) from 12:00 pm-1: 30 pm.  

Online Application/Deadline: Applications are now open. The deadline to apply is Monday, January 28th, 2022 by 5 pm. The completed application must be submitted online using the following link: 
All participants must attend the mandatory orientation on Friday, February 4th, 2022 from 12:00 am-1:30 pm
Failure to attend orientation results in dismissal from the program.
For more information, please contact
Lizbeth Lupi, M.A., Employer Relations Manager | Center for Career and Professional Advancement
Phone: (209)228-2380
Email: llupi@ucmerced.edu
Juan Morales, Employer Relations & Internships Coordinator | Center for Career and Professional Advancement
           Phone: (209) 228-2462
           Email: jmorales44@ucmerced.edu
Maria Ramirez Loyola, M.A., Doctoral Student | Psychological Sciences
Email: mramirezloyola@ucmerced.edu
Services for Undocumented Students
Email: undoc@ucmerced.edu
Center for Career and Professional Advancement
The Center for Career and Professional Advancement (CCPA) at UC Merced empowers students and alumni to reach their full potential by offering services in career development, experiential education, employment, and graduate school.
Undocumented students, who have received consideration for Deferred Action for Childhood Arrivals (DACA), are eligible to work on the UC Merced campus. CCPA will advise students of the necessary I-9 documents they will need to provide before the time they enroll in the university's payroll system.
CCPA assists students with their paraprofessional experiences and in their professional preparations. The following services assist students with their current and future opportunities: