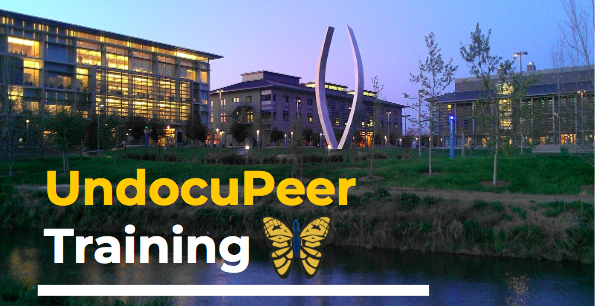 UndocuPeer is a comprehensive student training program established by Services for Undocumented Students and was developed with the assistance of undocumented students at UC Merced. The training program aims to strengthen the knowledge UC Merced student leaders have on the undocumented community by providing student staff, student organizations, and student leaders the skills and necessary information to serve as an ally of the undocumented community. Participation in this training program provides student allies the necessary skills to support undocumented students by: 
Learning about the challenges undocumented students face.

Learning and understanding policies that provide support for undocumented students.

Becoming aware of resources available at UC Merced for undocumented students.

Developing confidence to share resources and knowledge to peers.
This revamped 1 hour training will allow you to develop the confidence to share resources and knowledge with ones peers to ensure the support, as an ally, towards the undocumented community. If your department and/or RCO would like our student coordinators  to provide and present our UndocuPeer Training for your student staff, members, or officers please complete the webform below.
Please submit the form 1 week in advance of when you would like the training to take place.
For any questions or more information, you may contact us at undoc@ucmerced.edu