UndocuPeer at UC Merced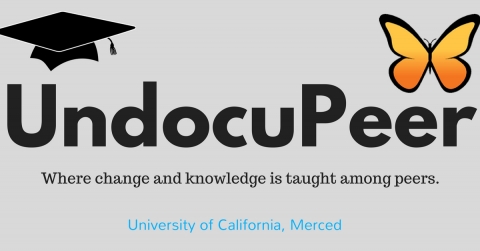 UndocuPeer is a comprehensive student training program established by Services for Undocumented Students and was developed with the assistance of undocumented students at UC Merced. The training program aims to strengthen the knowledge UC Merced student leaders have on the undocumented community by providing student staff, student organizations, and student leaders the skills and necessary information to serve as an ally of the undocumented community. Participation in this training program provides student allies the necessary skills to support undocumented students by: 
Supply student allies information about the undocumented community at UC Merced; 
Fostering a positive and responsive, "upstander" attitude towards undocumented students; 
Present trainees with university, state-wide, and national resources for undocumented students; 
And highlight the importance of creating a safe space on-campus for undocumented students.  
The Services for Undocumented Students encourages student organizations, student leaders, and student staff to partake in this training program to nurture a more emancipatory and inclusive campus environment. 
If you would like to request a training for your student staff, student orgainization or peer related group, please emial Alejandro Delgadillo at adelgadillo@ucmerced.edu